Hey y'all! Welcome to the series Weekly Eating.
Here is where I'll talk about the week's meal plan versus reality, what we ate for the week, and how we did budget-wise. I hope it gives readers a behind-the-scenes look into our life through the lens of food, and it's also a way to keep us on track with meal planning and grocery budgeting.
Feel free to share your wins and lessons in the comments below!
Over the weekend we got to explore Raleigh a little, even though it was rainy and gloomy, and we LOVED the Raleigh Beer Garden. Yet one more reason I need spring/summer to hurry up already, so I can sit up on the top deck and leisurely sip a stout in the afternoon sun.
I didn't get a whole lot of meal prepping done, though I did make a meal plan. Who knows, we often change our minds anyhow! I did attempt a rice pudding with some leftover rice from stir Friday. It was just 'okay' unfortunately… I will not be adding shredded coconut anymore, I just hate its texture so much.
Oh, and I also finally got around to a post I've been wanting to create for a long time. Spoilers: it involves lots of fruits and colors!
Monday:
Breakfast – Cracklin' Oat Bran with Almond Milk.
This is a cereal hubs actually grew up on (I'm eternally grateful to mom in law for making healthy eating seem normal his whole life!) and I'd never tried it. So I finally hunted it down in Kroger, and decided now is the time. Turns out, it really is pretty great. It doesn't taste like cardboard at all, more like really solid cinnamon cookies. If only I could figure out a way to easily make it at home…
Lunch – leftover Best Black Bean Soup and a big salad
Dinner – Shepherd's Pie with leftover mashed potatoes from pierogi making. Technically it was a Cottage Pie, because it was ground beef and not ground lamb.
Snack – raw veggies with hummus, and a coco loco. Yes it says expires Feb 11 and I ate it on the 20th, but guess what? Yogurt is literally full of bacteria. I'm not concerned, nor did I get sick.
Tuesday:
Breakfast – mixed berry smoothie. This had some blueberries and blackberries plus a handful of spinach, and came out quite tasty
Lunch – veggies + hummus + pretzels. I had this as a snack late in the morning, and it actually filled me up pretty well.
Snack – Peanut butter bar and Pumpkin Latte. I got the "RXBar" for free as a sample, and the Starbucks Via as a gift for my birthday, so this was free. And delicious. The PSL was just okay, but what do you expect from instant? And the RXBAR was… weird. Very… thick and chewy. But they say that there are only 4 ingredients, so who knows.
Dinner –Slow Cooker Minestrone Soup. I used up the last little bit of leftover mashed potatoes, which thickened the soup considerably. I usually add chopped up potato, so it worked well. Some diced carrot, celery, and onion, a can of tomatoes, leftover slow cooker pinto beans, frozen green beans, and some broth. Set to cook on high for 6 hours, and a fresh hot meal awaits you! God bless slow cookers.
Wednesday:
Breakfast – green smoothie, with a new recipe that I am really loving! Coming soon…
Lunch – leftover pea soup, cranberry green beans, and salad
Snack – I brought an Almond Coco Loco and blueberries
But then a coworker brought Cherry Pie for someone else's birthday… so you know what I had instead!
Dinner – Enchiladas with roasted asparagus & Brussels sprouts.
Ground beef & cheese for the boy, black bean for me.
Thursday:
Breakfast – Cracklin Oat Bran with cashew milk
Snack – Peaches & Cream Smoothie; recipe coming soon!
Lunch – Leftover black bean enchilada, rice, roasted veggies
Dinner – BBQ pulled pork sandwiches from the freezer for the boy, leftover minestrone soup for me
Friday:
Breakfast –Cracklin Oat Bran, with coconut milk. There was a 2/$5 sale on plant milks last week, can you tell? 🙂 I like the cashew the best so far, it just has the richest flavor. Maybe bc it's "vanilla"…
Lunch –leftover Minestrone soup, a big salad, and turmeric mango smoothie. I bragged about this one on Twitter.
Snack –hummus & veggies
Dinner –I had a ridiculously stressful day, so cooking is not a thing I wanted to do when I got home… luckily my very sweet boy handed me a glass of wine and told me to sit down while he took over. 🙂 We had a simple dinner of salad and pasta, but sometimes a big bowl of carbs and a supportive spouse is all you need to feel better.
The Weekend
Pretty sure the only thing that stands out on this weekend's calendar is the One Year Anniversary party at Starpoint Brewery in Durham! From 10am – midnight, $4 pints all day of all of their signature brews?? Count us in!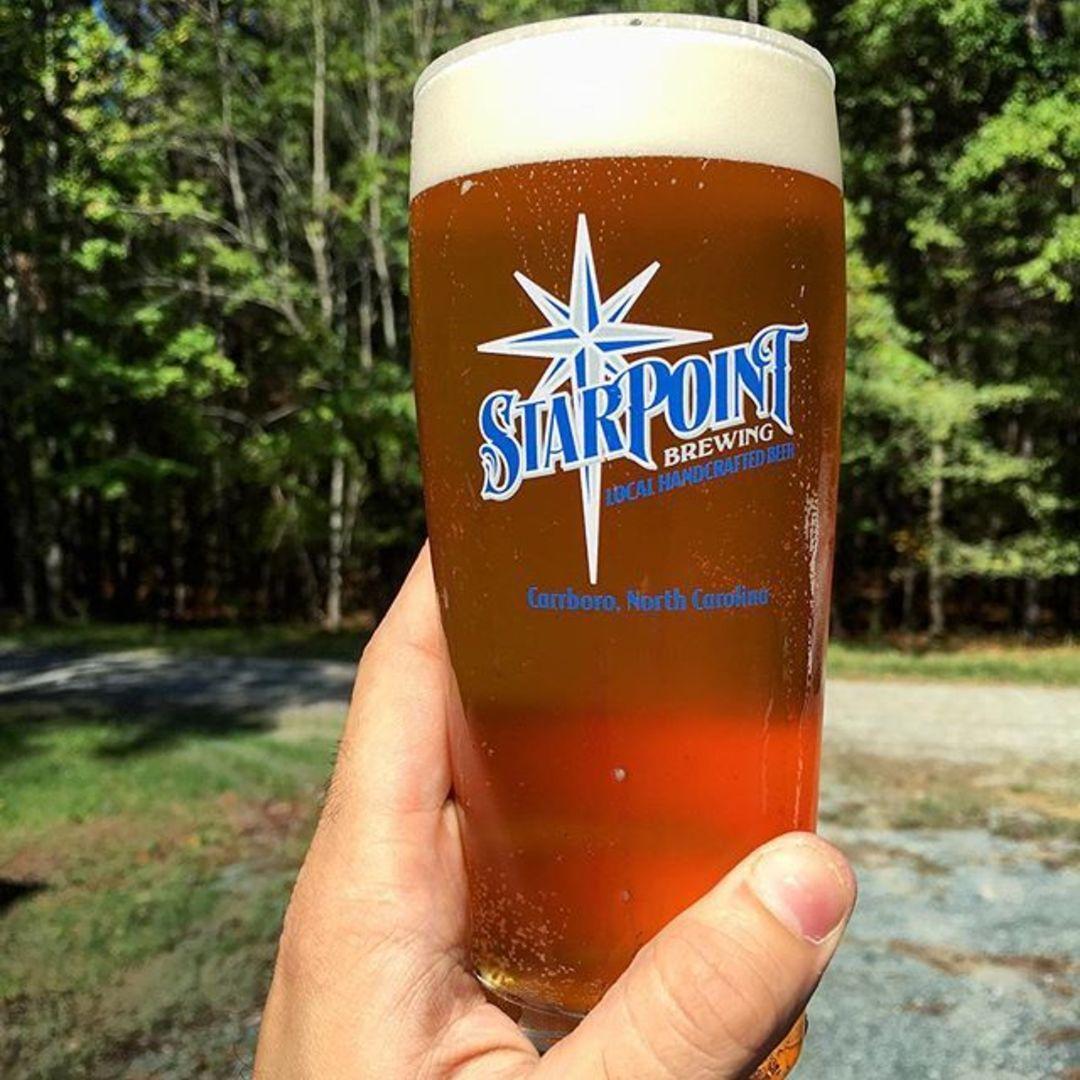 If I get more motivated, I might try to start some things for the raised bed garden. I already tried some greens and onions a few weeks ago, and though a few came up, they all died 🙁 I'm pretty sure not having a heating pad or grow lights and leaving the house at 54 overnight is what killed them… so I may try again. Or else I'll be buying a bunch of starter plants this year.
Food Total: $106.28
Just over $100 this week, dang it. I will still count this as a win though, especially as I restocked on ground beef and turkey since our freezer supply was depleted, and lots of yogurts (we go through about 10 a week at least).
I took mercy on him and the boy got some special meat-based meals this week, like a huge 3-cheese ham and turkey sub w buffalo sauce, shepherd's pie, and beef and cheese enchiladas.
Oh, and $75 of that $100 was produce! $46 of it was just spent on bags of frozen fruit. More spoilers about that upcoming post series… So without taking that into account, we really spent more like $60 this week.
Lessons Learned
One amusing thing I noticed is that even though he requested the Cracklin Oat Bran, I'm the one eating it! I'm glad he introduced me to it though, it really is good. And it's one of the healthiest cereals I've seen. When my creative mojo is not quite awake, but I'm not feeling a smoothie, it's my new go-to breakfast.
Another thing that stood out, it's a lesson I learn over and over again, is that leftovers are SO good! Having containers just ready to grab and go is soooo convenient. If I have to put too much effort into food prep in the morning, I'm more likely to say forget it and spend the $7-$15 on lunch somewhere at work. No bueno.
But, the catch is that it is always a balancing act. I don't want TOO MANY leftovers either, or we can't eat them fast enough. Even with a six-plus-foot-male appetite in the house. And especially if it is a thing he isn't super crazy about, and I'm left to my own devices to finish off two types of soup, a stir fry, and a couple enchiladas? That's a recipe for disaster. So more meals that we know we both love and can and will eat over and over, along with the constant experiments.
How about you guys? Did you have a learning week or an awesome week of wins?