Until I moved to Colorado, I didn't know what "pho" (pronounced "f-ooo" or "ph-uh") was. The closest thing I'd ever had was ramen noodles out of a bag with that obviously fake chicken flavor but deliciously salty spice packet.
Well, pho is definitely not just ramen noodles. It is so much more. Typically a rich, flavorful broth made by simmering all manners of vegetables and meats for hours, filled with noodles, veggies, and paper-thin slices of beef. Then topped with crunchy sprouts, Thai basil, and jalapeno slices. Pho is a whole taste experience.
You can of course have non-soup dishes as well, including rice bowls and noodle bowls. Depends on the place you go, but you should definitely try authentic pho soup at least once. Be sure to ask to see the size of the bowl before you order for the first time. Even a "small" can be a staggeringly huge amount of food.
By far my favorite find for pho in the Denver area has been Pho Lee.  A small, unassuming store in a tucked-away plaza off of Arapahoe Road just off I-25, you wouldn't know it to look at it but this cozy diner is ragingly popular with the locals. And for good reason.
I've had both a noodle bowl and the pho soup, and both have been crazy tasty. For a very affordable price ($8-$12) you can have a gigantic bowl of top-notch Asian cuisine, likely with enough left over for dinner or to store in the work fridge until tomorrow. If it even lasts that long.
I went with several people from work, and we waited about 5 minutes for a table. Be sure to get there well before the noon rush crowd, or you will definitely be there longer than an hour. Like I said, this place is popular.
My co-worker got a rice bowl with sweet and sour shrimp, and said it was delightful. The sauce was flavorful and tasty, not too thick and not too watery. The veggies were steamed to perfection.
I chose the brisket noodle bowl, and boy am I glad I did! This monster of a meal had heaps of fresh hot meat, sliced more thinly than my pinky nail and covered in a slightly sweet almost BBQ like marinade. The hot rice noodles went perfectly with the brown sauce, and the cold diced cucumber and shaved carrots were a great combination and contrast. Topped with scallions and crushed peanuts, and with a cup of kimchi poured on top, it was absolute bliss.
I had more than enough to satiate me, and more than half I took home in a box for dinner. Not bad for $9. I went back a few weeks later with another work friend, and had the pho soup bowl. This time we had a 10 minute wait for a table, and ended up sharing a 4-top with one stranger. But at Pho Lee, everyone is family.
The bowl was bigger than my head and filled to the top with hot, complex, spicy broth, heaps of ribbons of meat, fresh vegetables, and rice noodles. The plate they bring as toppings was piled with handfuls of fresh Thai basil, other greens, jalapenos, and bean sprouts. Several types of hot sauces and spices are also provided, so you can customize your heat content to taste.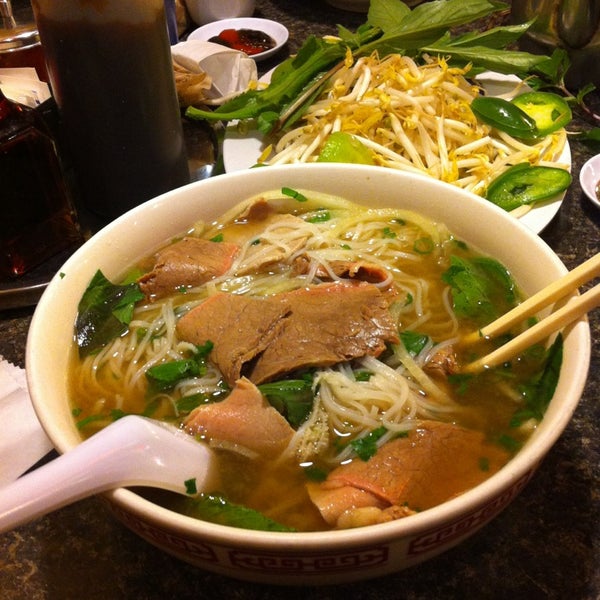 Overall, Pho Lee provides some amazing food for a very affordable price, especially in the I-25/Arapahoe area. The service was great too, the owner himself came to give us a quick apology for the delay in getting a table, and to thank us for being willing to share a table when they are clearly busy. Everyone was pleasant, and seemed very happy to be working there. I would highly recommend this place, for lunch or dinner, any time.
Pho lee
6860 South Clinton Street
Greenwood Village, CO 80112