So the clock is ticking down, and you realize you only have a few days (or hours) until it's present time. What are you to do?! Shipping won't get here in time, and going to the store to fight crowds sounds like your idea of torture.
Not to worry! I have put together a list of clever last-minute ideas you can make yourself, using things you likely already have around the house. Don't panic, you don't even need to be that crafty.
First up are "Craft" ideas, with directions and occasional pictures. All these things are things I've made before, or would make now. After that are the "Cooking" ideas, which are edibles of course.
Frugal Craft Ideas:
Seed Bombs
Letter wine cork board
Door snake – if you have a sewing machine
Personalized mug
Picture Frame Pin Cushion
Scrabble letter ornaments
Bonus: Survival Altoids Tin (opens in new window)
Seed Bombs – for the green thumb

This is an idea I saw somewhere one year when I myself was looking for ideas. They are perfect for any time of year, Christmas works because you have plenty of time until spring to plan where you will plant these adorable little gems!
You will need:
Step 1: Shred one sheet of paper in whatever color you like. Cover with water for 2-3 minutes. Put the paper and water in a blender and pulse until it becomes pulp.
Step 2: Pour the paper and pulp through a piece of cheesecloth to drain. Put a few seeds of your choice in the center. You can make each one a different color flower seed, or use vegetables, whatever you have and whatever your recipient would enjoy.
Step 3: Put some more pulp over the seeds, and squeeze out the excess water.
Step 4: Let the seed bombs dry, and now you have an adorable gift for someone special! You can make as many different colors as you like, the size of the paper sheet will determine how big a bomb you can make.
Letter Wine Cork Boards – for anyone really
The gift recipient doesn't need to be a drinker for this project, just you do! Kidding. But you will need to obtain 10-50 wine bottle corks. How many will depend on the letter you want to make, and how big you want the letter to be.
You will need:
Wine corks
Optional – paint, pretty ribbon, tacks, photos or mementos of you and the gift recipient
Step 1: Arrange the corks into the shape of the letter you want to make. This will help you decide how big you want to make it. Then, using the craft wire, wrap around the corks, weaving in and out. Use super glue every few corks to hold them together. And that's it! Let your masterpiece dry.
Bonus points if you used corks with varying colors of red on them, and grade the color across the letter. Or you can paint over the end to make the letter all one color. Add a pretty ribbon to the top to hang it, and tack on some fun photos. If you are unsure of your artistic abilities, you can buy a wooden letter at a craft store to use as a guide, and glue the corks to that instead.
Another option: place the corks flat onto a picture frame or serving tray in a fun pattern. Paint over the whole thing with glue. Now you have a flat, fun patterned cork board!
Draft Stopper or Door Snake – for anyone who has a door in their home
These little guys are awesome to put under your doors to stop cold drafts from coming in. You can help a friend be more comfortable this winter and even lower their energy costs! *This craft does require a sewing machine*
You will need:
1 sewing machine (or needle, thread, time, and patience)
Material approximately 1 yard by 1 foot (use thicker cloth to stand up to more wear)
Approximately 6-10 cups filler (rice, beans, sand, salt, kitty litter, etc)
Step 1: Lay your fabric pattern side up, then flip it over onto itself so the "inside" faces out and pin along the open side. Measure your doorway, and using a basic stitch sew along the pins to that length plus about 4 inches, trimming the excess. This creates a tube.
Step 2: Sew up one end of the tube, making sure that it is fully closed. You don't want any kitty litter leaking out onto your clean floors later. Now flip the tube inside-out so that the pattern is on the outside.
Step 3: Fill the tube with your filler, rice or kitty litter is best. You can hold it up to your doorway to make sure it is long enough but not too long, and trim as needed. Leave 2 inches on the un-sewn end.
Step 4: Fold the cut ends into the tube, so you now have four layers. This looks cleaner. Then sew up the other end of the tube, going over it a few times to make sure it is sealed well.
There you have it. A cute, cheap way to save some money on heating bills for years to come. If you are super crafty, you can even sew some washable covers for the stopper itself so that it can be used for decades to come.
Personalized mug – for the coffee or tea drinker
These mugs are infinitely customizable and completely adorable. No one has even been mad about a cute coffee mug as a gift. And when tailored to the recipient they are even more special.
You will need:
A Sharpie pen
An oven
Optional: creativity, coffee, tea, hot cocoa mix, etc.
Step 1: Take a white (or other light color) ceramic mug and a Sharpie marker. Using a stencil, or your own talents, draw on your desired picture, phrase, word, etc. Some ideas include: "Good morning", "For him  & For her", a quote from a favorite person or book, initials, the person's home state.
Step 2: Place the mug in the oven at 350 degrees for 30 minutes to set the ink. Now your mug can be used, washed, run through the dishwasher, and not smudge! To fancy up the gift even more, fill the mug with the receiver's favorite tea or coffee, a peppermint swizzle stick, a bag of cocoa mix and marshmallows, or whatever else fits.
Picture Frame Pin Cushion – for the crafty sewer
This idea from Love Grows Wild. You don't need to be able to sew to make this gift either! Do be cautious when working with hot glue.
You will need:
Small picture frame (any shape)
Fabric
Cardboard
Some pins
Step 1: Take the glass and anything else out of the frame. Trace around the glass onto a piece of cardboard to make the back of your pin cushion. Use the glass to trace the shape onto your fabric, centering the design if there is one. Cut it out, leaving plenty of extra, and make sure it still fits into the frame with the added fabric. Trim anything necessary to make it fit.
Step 2: Flip the fabric over and place a handful of batting in the center. Place the cardboard on top, and begin hot gluing the fabric along the edges. It will bunch up, that is ok. Leave a 1 inch space open on one side. Keep checking to make sure it fits in the frame, adding or taking out batting as needed.
Step 3: Finish hot gluing the edges, and put inside the frame. Close it or hot glue the cardboard all around the edges. Now your frame can sit or stand up, and will look totally adorable on your crafty friend's table or sewing machine!
To take it up yet another notch, use these steps but on a small pint-size mason jar. Hot glue the fabric to the lid, then fill the jar with small sewing accessories. You can get a mini kit at most dollar stores, and add in anything else you think your crafty friend would need. Then you have a hand-crafted mini sewing kit!
Body Scrub – for anyone who likes soft, nice smelling skin
This is a great idea not only for the holidays but year round. There are so many scent combinations you could try, like peppermint, grapefruit, lemon, green tea, chocolate, coffee, and brown sugar vanilla. You can also use epsom salt in place of the sugar if you like. I will keep this recipe in my back pocket for anytime I need a quick, cute gift for a girlfriend or relative!
You can also get a little creative here. The basic recipe below is just an outline, experiment with types of oils and amounts until you find what works for you. And the packaging is also key. A clear glass jar will show off layers of different colors, or pieces of crushed candy cane. Make sure to use a wide-mouth lid however, so your recipient can reach in and get a handful of skin-softening goodness out.
You will need:
1 cup sugar (white or brown)
1/4 cup oil (coconut, olive, vegetable)
Scent of your choice
Optional: food coloring, crushed candies, zested citrus
Step 1: In a large bowl, mix the sugar and scent of your choosing. If you have something liquid like lemon juice, factor that in when deciding how much oil to add. Then mix in oil, a little at a time, until you have the consistency of packing snow. Depending on how many gifts you are making, you can do a large batch or a single jar.
For the jar, if you don't want to or can't spend the money on new jars, simply save glass jars from foods throughout the year. Things such as empty Frappuccino cans, salsa jars, or spaghetti sauce can be washed, labels removed, and new pretty labels printed and added. These make an extremely inexpensive, yet uniquely thoughtful gift for mother's day, teacher appreciation day, birthdays, or holidays!
Scrabble Ornaments – for anyone with a tree
This super-simple, super-cute idea comes from I Heart Naptime. You can pick up a game of Scrabble very cheaply from any thrift store or scout garage sales. Or if you are really crafty you can purchase thin strips of wood, cut into squares, and burn or paint your own tiles.
You will need:
Step 1: Decide what you want your ornament to say. Ideas include: peace, love, joy, Christmas, believe, noel, or the name of the gift recipient. Hot glue the letters together one at a time, letting dry fully. Then hot glue a piece of ribbon to the back and let dry.
These make an absolutely adorable tree accent. You can make as many or few as you like. For other times of the year, you could switch this up by taking mini magnets from a craft store and hot gluing to the back instead of ribbon for a cutely customizable magnet gift.
And now for those who are less crafty and more cook-y, gifts from my favorite place: the kitchen! Most of these take very little time and effort, and you likely have the ingredients in your cupboards already. All look adorable when packaged up into clear containers or holiday tins with a bow on top.
Your recipient is bound to love eating your homemade treats, knowing you put the time and effort in to making them happy.
Frugal Cooking Ideas:
Peppermint Meringues – for those who like crunchy sweet treats
Meringues seem hard but they are honestly super simple. The only requirements are the time put in to make the egg whites fluffy, and making sure there is no fat in the bowl at any time.
It is amazing how much four egg whites can fluff up into. You can use fewer, or double or triple the batch to make simple gifts for teachers, relatives, coworkers, friends, or neighbors.
You will need:
4 egg whites
1 cup sugar
1 tbsp peppermint oil
Sprinkle of sea salt
Optional: few drops food coloring
Step 1: Separate the eggs into whites and yolks. If you want to be super cautious, break each egg into one bowl, then combine them all in a separate bowl. This ensures absolutely no yolk gets in. The fats in the yolk will ruin the meringue and cause it to not rise.
Step 2: Beat the crap out of the egg whites. Seriously, let it go for about 20 minutes. The eggs should bubble, then begin to "fluff" up. Continue until soft peaks form. That means if you dip a spoon in, it can pull up a peak, but it flops over when you remove the spoon.
Step 3: Add in the sugar and the peppermint flavoring. You could also try anise, vanilla, lemon, almond… let your imagination run wild. Sprinkle in about 1/4 tsp of salt, and continue to beat until stiff peaks form. If you stick in a spoon, you can pull up peaks that then hold their shape.
Step 4:You can either put it into ziplock bags with a hole snipped in the corner and pipe it onto cookie sheets, or just use a tablespoon to plop dollops on.
Bake in the oven at 250 for 1 1/2 to 2 hours, or until fully hardened. You can also prop the door open and leave them overnight. I use a foil sheet so they are easier to remove. Also, you can add in a drop of food coloring at step 3 for fun holiday swirls!
Peppermint or Almond Bark – for anyone with a sweet tooth
Barks are a family tradition at my house. They are incredibly simple to make, mostly just requiring time and that you not eat it all! You can customize them however you like with combinations of different types of chocolate, candies, nuts, or caramel. These are great gifts year-round!
You will need:
1-2 cups baking chocolate
1/4 cup crushed candies, chopped dried fruit, or nuts
Optional: flavoring such as peppermint extract
Step 1: Melt the chocolate(s). Pour onto a sprayed baking pan and let cool. If using two colors, pour second layer on and let cool. Just before completely cooled, sprinkle on your crushed candy or almonds.
Step 2: Once cool, cut into squares or break into rough pieces. Wrap up and give as gifts, or scarf down the whole tray, I won't tell.
It really is that simple. You can get creative with this and layer white and dark chocolate together, add almonds to one layer with something different on top, whatever you like.
This can be tailored to whatever event is happening such as birthdays, Halloween, Easter, St. Patrick's Day, anything.
Cookie in a Jar – for those who also bake
This is an inexpensive gift that can be tailored to your recipient. Basically it entails layering the dry ingredients of a recipe in a clear jar, and usually includes the recipe which tells them what other ingredients to add and how to complete the recipe.
As an example, I'll use the Dark Chocolate Andes Mint idea from The Frugal Girls.
You'll need:
1 box Dark Chocolate Cake Mix
1 quart sized glass jar with lid
Optional: Ribbon, pretty scrapbook paper
Step 1: Pour the cake mix into the jar and pat down. Pour the baking chips on top. Put the lid on, and wrap a pretty ribbon around it. Attach labels to the front and the lid, or write on the front in Sharpie.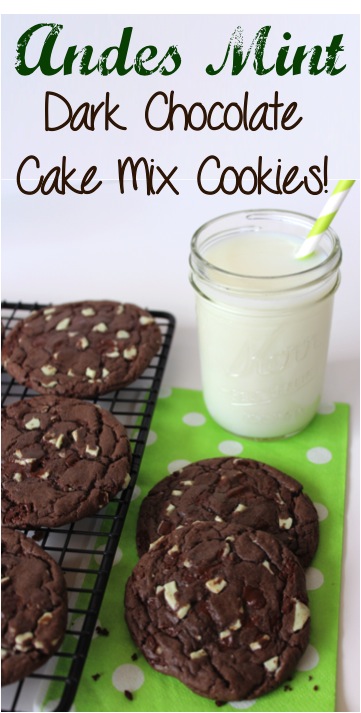 Add a recipe card that says:
Beat 2 eggs and 1/2 cup vegetable oil in a bowl. Pour in entire contents of jar, and stir well. Drop by tablespoon onto an ungreased cookie sheet. Bake at 350 degrees for 8-9 minutes or until done.
You can use this basic idea to make any kind of cookie or cake mix you want to give. If you are a true baker yourself, or have a favorite family recipe, you can also layer individual ingredients like sugar, flour, baking soda, etc. Just be sure to add in the recipe so the recipient knows what else is needed.
This can also be transferred as an idea to soup recipes. Simply layer in beans, rice, spices, dehydrated veggies, etc. and attach a recipe stating how much water to add and any other ingredients to complete your favorite soup. Tie up with a pretty bow or ribbon and your recipient has a thoughtful, easy future meal.
Peanut butter fudge – for when you seriously have 3 minutes
This is my mom's super secret, ridiculously easy fudge recipe. With only two ingredients (YEAH, TWO) anyone can make this, even if the doorbell literally just rang with unexpected guests.
Obviously you can find much more involved recipes all over the internet, and no one has ever been angry about fudge as a gift. But for times when you really need a sweet treat pronto, this is a good go-to.
You will need:
Step 1: Mix both room-temperature ingredients well. Microwave 2 minutes, in 30-second bursts, and mix again. Refrigerate until solid and cut into squares.
You can get fancy and top with chocolate chips, or melt chocolate and layer the chocolate and peanut butter. Or just stick with simple and classic. Wrap in cellophane or put into cute tins and watch their faces light up when they bite into a piece.
Canned Jam/Jelly/Salsa/Fruits – for friends who appreciate handmade foods
Really the only things you need for wonderful handmade food items is the jars, some time, and the particular recipe's ingredients. Canning is not at all intimidating once you try it a few times. The initial investment is $10-20, but you can make plenty of foods without a pressure canner at first, including jam, salsa, green tomato salsa, and canned fruit such as peaches.
You will need:
Step 1: For salsa: Chop up 2 cups tomatoes, 4 tbsp onion, and if you want to add 1 clove garlic, black pepper, hot sauce, jalapeno, and/or cilantro. For jam: Put 2 cups berry of choice in a sauce pan, and add 1/4 cup sugar and 2-4 tbsp water and bring to a simmer. Cook for 20-30 minutes, until berries are completely liquid. Most berries will gel on their own, but you could also add 1 tsp of pectin.
Step 2: Bring the large pot of water to boil, and add your jars to sterilize for 10 minutes. You can also run them through the dishwasher. Use the funnel to fill your jars, and a wet towel to wipe off the rims. Screw on the cap & lids, and submerge in boiling water for 45-60 minutes.
Step 3: Remove the jars from boiling water with tongs and set on a counter top. Make sure they are not disturbed as they cool. You should hear the "pop" of the jars sealing. Let cool overnight, then check in the morning that all have sealed. If not, re-process or put in the refrigerator and use within a month.
Candy Cane Popcorn – for anyone who likes sweet holiday snacks
As a total popcorn addict, I am super stoked about this recipe from I Heart Naptime! Like a combination of rice krispies and kettle corn, this gift from the heart is sure to please. As they mention, some recipes use white chocolate so you could try that instead of the marshmallow, or something uniquely you.
You will need:
2 sticks butter
Half a bag of large marshmallows (about 22)
1/2 teaspoon peppermint extract
4 candy canes, crushed
1/4 teaspoon salt
Step 1: Pop a big batch of popcorn, microwave or stove top. Melt the butter and marshmallows together, and crush the candy canes.
Step 2: Add peppermint extract to the butter, then slowly stir in the popcorn, being sure to remove all kernels. Sprinkle in the crushed candy canes while stirring. Transfer to your desired gift bag or tin. This can be eaten warm or cooled, and likely all in one sitting!
Compound butter – for the savory foodie
A compound butter is just a fancy name for butter with something else added to it. This extra something can be garlic, herbs, berries, or honey. It adds a little extra something special when spread over crackers or fresh bread. Heather from WhipperBerry has three delightful recipe ideas to share.
You will need:
4 sticks of unsalted butter
Approx. 1 cup of add-ins
4-ounce glass jars with lids
Optional: Adorable labels and gift tags; fresh bread or crackers
Step 1: In a large mixing bowl, combine one pound unsalted, room temperature butter and your desired add-ins (such as 1 cup honey, 1 cup fruit preserves, or 1 cup roasted garlic). Whip well. Spoon into sterilized 4 ounce jars, and store in the refrigerator or freezer until ready to use.
That's all there is to it friends! And you thought baking up a gorgeous, unique, and tasty treat would take you a lot of time and effort. Now get out there and gift some memories this Christmas.
Of course these are only a few ideas of many. Think about your gift recipient, and your particular talent.
Can you craft your own jewelry? Maybe a cute, unique pair of earrings would be just the ticket. Does your person love to read? Create a one-of-a-kind book marker for them. Photos are always well-received, and there are infinite ways to customize them. A dozen homemade cookies of any kind are always a sure crowd pleaser.
Whatever you do, the gift recipient will know you were thinking of them this holiday season!
Do you have any frugal last-minute gift ideas to share??